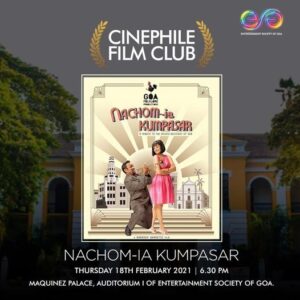 This Thursday i.e. 18th February 2021 at 6.30 pm the Goan film 'Nachom-ia Kumpasar' directed by the master filmmaker Bardroy Barretto, starring the legendary Vijay Maurya & Palomi Ghosh, will be screened at Maquinez Palace, Auditorium I of Entertainment Society of Goa.
Film: Nachom-ia Kumpasar
Directed by: Bardroy Barretto
Duration: 2 hrs 36 mins
"Nachom-ia Kumpasar" is a Konkani feature film – a tribute to Goan Music and her legendary musicians. Narrated through the emotional roller coaster of a love story destined to tragedy, it celebrates Goan music through the eyes of its prodigiously eclectic generation of musicians in the 1960s and 70s. The film weaves its lilting narrative through 20 timeless Konkani songs that capture the timbre and texture of a soundscape these musicians made their own.
Comments
comments