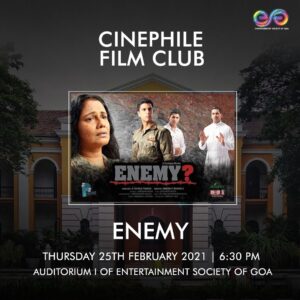 This Thursday 25th February 2021 at 6.30 pm the Goan film "ENEMY" directed by Dinesh P. Bhonsle and produced by A. Durga Prasad, starring Meenacshi Martins, Salil Naik, Antonio Crasto & Samiksha Desai will be screened at Maquinez Palace, Auditorium I of Entertainment Society of Goa.
The details are as given below –
Film: ENEMY
Directed by: Dinesh P. Bhonsle
Duration: 1 hrs 34 mins
In the midst of the festive season, a Goan Catholic family discovers that they have lost their property to the Government and their family honour is at stake. Sanjit, the soldier son has to fight a different battle. As the tension and drama builds up, Sanjit finds himself pushed to the edge. His reaction leads to a gripping climax.
Kindly note screening is for Cinephile enthusiasts & above 18 years only.
Comments
comments